Looking for a memorable gift for a special event, holiday or friendly gathering?  Go beyond the typical bottle of wine, dessert tray or fruit basket – try a gift box from Old Heidelberg Deli!
We offer several types and sizes of gift boxes for any occasion, each with an assortment of our German Deli Classics including our Homemade Sausages and meats, homemade Sauerkraut, schnitzels, a wide selection of German & Europe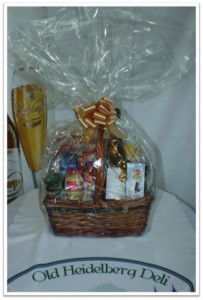 an chocolates and much more.  Our top-selling gift items include:
Barbecue/Tailgating gift basket
Dinner-To-Go gift basket
Holiday/Corporate Gift Baskets
Special Event/Party Gift Basket
We also create custom gift baskets to meet your specific needs, and will recommend an assortment of menu items that are perfectly suited for your occasion.
Call us today at 954.463.3880 to order a gift basket for your next event!